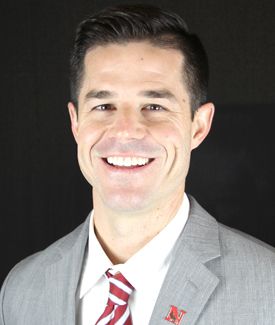 Newberry College director of athletics Matthew Finley announced the hiring of Bryce Cooper as head coach of the Wolves' men's soccer program in January 2016.
Cooper joins the Newberry family after serving as assistant men's soccer coach at Duquesne University for the past three seasons. In his tenure, the Dukes twice qualified for the Atlantic 10 conference tournament with 10 players earning all-A10 honors and one Academic All-America. The Dukes also won the NSCAA Team Academic Award with a team grade point average above 3.0 in all three of Cooper's seasons on the Pittsburgh campus.
At Duquesne, Cooper assisted in all aspects of the program including developing, planning and leading training sessions, recruiting, organizing all team travel, academic monitoring and scheduling, game management and analysis, video analysis, running and organizing camps, organizing team equipment and apparel, coordinating and establishing an alumni database and organizing opponent scouting.
"I would like to thank Director of Athletics Matt Finley, President Dr. Maurice Scherrens, Dr. Sandra Scherrens, Faculty Athletic Representative Dr. David Rachels and the rest of the committee for the opportunity to lead the men's soccer program at Newberry College.," Cooper said. "I am extremely grateful and humbled by this opportunity and hope to put the pieces in place to have success on the field, in the classroom, and in the community.
"Matt and the rest of the department have a exciting vision and aggressive plan to make Newberry athletics a regional power and national contender. I can't wait to get started and know that we will build something that the faculty, alumni, students and campus community will be proud of."
"It is with great pleasure that I have the opportunity to announce Bryce Cooper as the head men's soccer coach at Newberry College," Finley said. "Bryce rose to the top of a deep candidate pool and was well received by our campus during his visit. I was extremely impressed with how he understands the big picture with regards to what it takes to build a solid foundation for a soccer program and look forward to watching him develop our current student-athletes.
"Future prospective-student athletes and their families are going to have a hard time telling Bryce no – he will do an excellent job of attracting high quality student athletes to Newberry College. Bryce's enthusiasm, experience and leadership skills make him the right person to elevate the Newberry College men's soccer program. The values and character which Bryce bring to the table will also be an asset to our department, the campus and the entire Newberry Community. I am excited to welcome Bryce, Courtney and Stori to the Newberry family," Finley added.
Cooper came to Duquesne after spending the 2012 season at Saint Francis, Pa. Prior to that, he spent three seasons as an assistant at Butler.